CompTIA A+
IT sector has been booming over the recent years, and there is a growing lack of qualified workforce in this field. CompTIA World-class IT certifications are now available for the first time on St. Maarten!
The CompTIA A+ (as a certification following the CompTIA ITF+) is the next step for you to build a successful career in information technology, possibly here on St. Maarten, or anywhere else, world-wide.
Why a CompTIA certification?
— CompTIA offers the most recognized entry-level certifications in the IT industry. CompTIA certifications have a global recognition, and are used by many companies, organizations and countries. To name a few: IBM, Microsoft, Apple, Intel, Google, Amazon, HP, US Department of defense, UK Ministry of defense and cybersecurity, etc.
— CompTIA delivers a solid and universal knowledge usable anywhere, instead of focusing on a specific vendor, as opposed to Microsoft or Cisco certifications for example.
— CompTIA builds actionable skills. Certifications are built and updated in conjunction with IT professionals working "in the field".
— CompTIA is a reliable reference. In existence since 1985, CompTIA is a non-profit organisation which has delivered more then 2.2 million certifications to this date.
Nipa and CompTIA
— NIPA is now an authorized partner of CompTIA, and you can pass your final exams here on St. Maarten.
— NIPA will provide you with a dedicated training program to complete your initial knowledge level.
— With NIPA you will obtain reductions, up to less 56% on some certification exams.
Comptia A+ Skills
The CompTIA A+ follows the CompTIA ITF+ certification. 9 Skills that you master and validate with CompTIA A+:
1 — HARDWARE: Identifying, using, and connecting hardware components and devices.
2 — OPERATING SYSTEMS: Install and support Windows OS including command line & client support. Understand Mac OS, Linux and mobile OS.
3 — SOFTWARE TROUBLESHOOTING: Troubleshoot PC and mobile device issues including application security support.
4 — NETWORKING: Explain types of networks and connections including TCP/IP, WIFI and SOHO
5 — HARDWARE & NETWORK TROUBLESHOOTING
6 — SECURITY: Identify and protect against security vulnerabilities for devices and their network connections
7 — MOBILE DEVICES: Install & configure laptops and other mobile devices
8 — VIRTUALIZATION & CLOUD COMPUTING: Compare & contrast cloud computing concepts & set up client-side virtualization
9 — OPERATIONAL PROCEDURES: Follow best practices for safety, environmental impacts, and communication and professionalism.
CompTIA Pathways: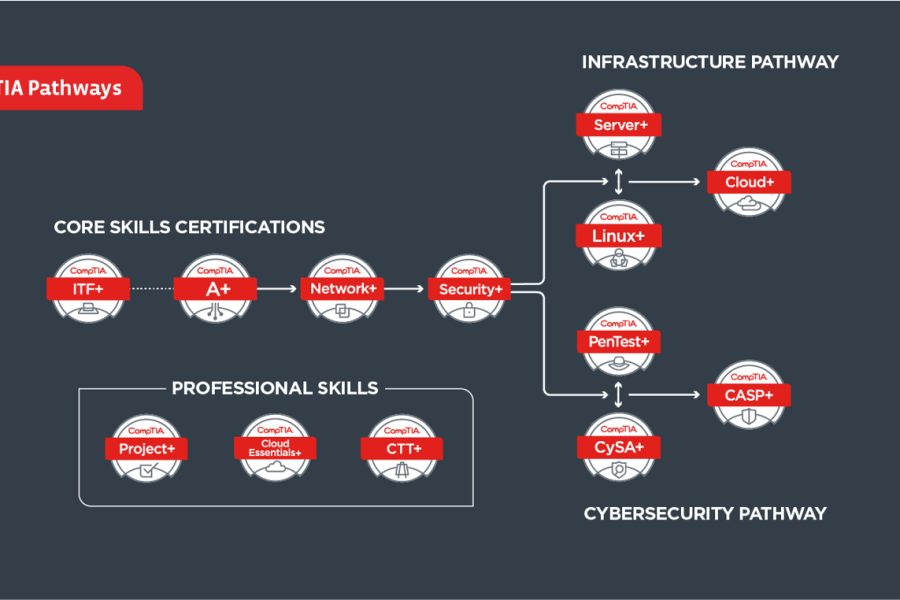 Would you like more info about the CompTIA A+ program? You can ask any question to our
CompTIA Caribbean representative
.